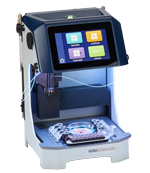 isoCell
to isolate, feed and harvest your cells
Automatically isolate, feed and harvest your cells for consistent results in every experiment.
The isoCell manages all tedious pipetting steps for you: isolating single-cells, feeding at any interval you choose and then harvesting your culture for downstream analysis. Automated wireless data-transfer between isoCell and isoHub guarantees a seamless and efficient workflow.
Automate pipetting needs
Isolates
94 single cells in a dish*
Feeds
your cells in <1 µl volumes
Harvests
colonies of your choice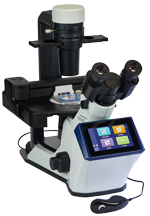 isoHub
to verify monoclonality and track clones

After single cells are plated into GRID chambers cells are imaged using isoHub. Entire GRID chambers are imaged in the absence of optical edge effects typically associated with conventional culture plasticware, allowing absolute confidence in monoclonality.
The isoHub further automates navigation through GRIDs and tracking of clones, either using brightfield or fluorescent mode.